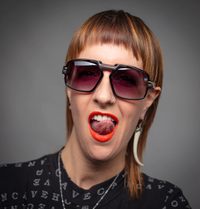 Sunglasses - Pornstar - Black
Dirk Diggle your way into the sordid steamy world of the PORNSTAR with these retrofuturist bad boys. Don't fluff about - be firmly ready to wow the pants off your audience with these Happies well-hung on your nose-bridge.
Keep your wet desires 100% UVA & UVB protected by grey/purple gradients lens with a flash of gold and black frame. Case included.